English version at the bottom of this page
Der E-Bikeshop von Chris liegt in unmittelbarer Nähe meiner Unterkunft in Brooklyn. Hatte ja schon am Sonntagabend eher zufällig einen Shop im ersten Stock des Nachbarhauses gefunden. Den Laden von Chris – Propelbikes – hatte ich aber auf dem Schirm und einen Besuch für Montagmorgen fest eingeplant. Im Gespräch mit ihm, erfahre ich viel darüber was sich in Sachen Radverkehr in NYC tut und warum es an manchen Stellen hakt.
E-Bike Spezialist
E-Bikes und vor allen E-Transporträder – nun ja: Chris und ich, hatten von Beginn an ein Thema. Und mein Interesse am Radverkehr in New York, kann Chris auch gut nachvollziehen. Auch wenn seine Passion vor allen Dingen elektrisch unterstützten Rädern gilt. Seinen Laden, den er mit seiner Frau Marissa betreibt, gibt es seit sieben Jahren. Er war der erste, der Riese&Müller in den USA vertrieben hat. Und er plant einen weiteren Shop in Longbeach, Kalifornien. Dort, so meint er, tut sich viel in Sachen Radverkehrsinfrstruktur. Und das Wetter passt auch zum Radfahren. Das habe ihn bewogen, diesen Schritt zu wagen. Er ist sich aber nicht sicher, ob die Investitionen dort – in den Ausbau des Netzes – ausreichen, um die Leute vom Radfahren zu überzeugen. Aber es sei ein Anfang – der Shift, so kommen wir überein – muss aber in den Köpfen der Menschen stattfinden.
Findet ein Shift statt?
So auch in New York. Fahrräder, E-Bikes und Transporträder müssen im Straßenbild auftauchen und Akzeptanz finden. Sie seien für viele, insbesondere Familien mit Kindern eine tolle Alternative. Zum Auto, aber auch zu öffentlichen Verkehrsmitteln der Metropole. Neben sicheren Radwegen, seien Abstellanlagen und aktuelle Gesetzgebungen ein Thema. In Bezug auf E-Bikes, gab es da bislang Verunsicherungen. Jetzt ist klar: bis 20 Meilen/Stunde sind in New York künftig erlaubt. Also deutlich mehr als die 25 km/h für Pedelecs in Deutschland.
Aber niemand kaufe sich gerne ein teures und qualitativ hochwertiges Rad, das dann geklaut wird. Ein echtes Thema in der Stadt und sowohl öffentliche Abstellanlagen, als auch solche in Appartementanlagen seien im Kommen. Na ja und dann das Thema Infrastruktur – Chris zeigt aus dem Fenster. Eine beliebte Bike-Route. Auf der Straße vor dem Laden soll ein geschützter Radstreifen entstehen. So sei es vor zehn Jahren beschlossen worden. Seit drei Jahren wird gebaut. Immer wieder kämen unterschiedliche Trupps, reißen Teile der Straße auf, verlegen Kabel oder Rohre, schließen die Oberfläche wieder – und dann kommt der nächste Trupp. So gehe das die ganze Zeit. Das dauert…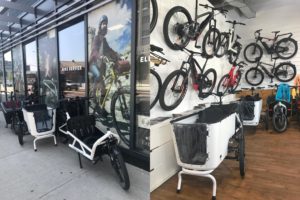 Fahrrad fahren muss cool sein
Fahrräder und E-Bikes müssten vor allen Dingen Coolness ausstrahlen,. Junge Leute müssten auf den Rädern zu sehen sein. Man denke nur an die ganzen Eitelkeiten in der Millionenstadt. Chris hofft auf eine Art "Tipping Point" – eine Art Schalter. Wenn nur eine kritische Zahl von Menschen auf dem Bike die Straße bevölkern, zögen die anderen automatisch nach.
Wie zum Beweis hält eine junge, schwangere Frau mit ihrem Transportrad samt Kleinkind vor dem Laden. "So you are one of those exotic people riding transportbike in New York", frage ich. Und sie strahlt: "Yes, it´s real fun!"
English version
Chris' e-bike shop is in the immediate vicinity of my Brooklyn property. Had already found a shop on the first floor of the neighboring house by chance on Sunday evening. The shop of Chris – Propelbikes –  I had firmly scheduled on the screen and a visit for Monday morning. In conversation with him, I learn a lot about what is happening in terms of cycling in NYC and why it hooks in some places.
E-Bike Specialist
E-bikes and especially all e-transport bikes – well, Chris and me, had a theme from the beginning. And my interest in cycling in New York, Chris can also understand well. Even if his passion above all electrically assisted wheels applies. His shop, which he runs with his wife Marissa, has been around for seven years. He was the first to expel Riese & Müller in the USA. And he's planning another shop in Longbeach, California. There, he says, a lot is going on in terms of cycling infrastructure. And the weather is also great for cycling. That made him decide to take this step. But he is not sure if the investment there – in the expansion of the network – sufficient to convince people of cycling. But it is a beginning – the shift, we agree – but must take place in the minds of the people.
Could (mind) shift happen?
So also in New York. Bicycles, e-bikes and transport bikes have to appear in the streetscape and find acceptance. They are for many, especially families with children a great alternative. To the car, but also to public transport of the metropolis. In addition to safe bike paths, parking facilities and current legislation are an issue. In terms of e-bikes, there was uncertainty so far. Now it's clear: up to 20 miles / hour will be allowed in New York in the future. So much more than the 25 km / h for pedelecs in Germany.
But no one likes to buy an expensive and high quality bike, which is then stolen. A real topic in the city and both public parking facilities, as well as those in apartment complexes are on the rise. Well and then the topic of infrastructure – Chris points out of the window. A popular bike route. On the street in front of the shop, a protected bicycle lane is to be created. So it was decided almost ten years ago. For three years is built. Again and again, different squads come, tear open parts of the road, lay cables or pipes, close the surface again – and then comes the next squad. That's how it works all the time. This takes a while…
Biking got to be cool
Above all else, bicycles and e-bikes should radiate coolness. Young people would have to be seen on the wheels. Just think of all the vanities in the megacity. Chris hopes for a kind of "tipping point" – a kind of switch. If only a critical number of people on the bike populate the street, the others automatically follow suit.
As proof, a young, pregnant woman with her transport bike and toddler appears in front of the store. "So you're one of those exotic people riding  transport bikes in New York," I ask. And she says with a smile: "Yes, it's real fun!"